Have you been affected by suicide?

Compassionate support for anyone bereaved or affected by suicide. Delivered by staff who understand it because they've been there.
Take My Hand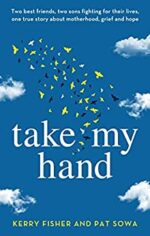 In 'Take My Hand' Kerry Fisher and Pat Sowa take readers on a very personal exploration of the universal experiences of grief and loss, love and friendship that connect us all. It is a lifeline both to those overwhelmed by heartbreak and for friends and family who don't know how to help. A powerful reminder that no matter how difficult life gets, you are not alone.
Supporting those bereaved by suicide
Please see North Yorkshire's support lines for those bereaved by suicide and read how we can help.
Suicide Bereavement UK launches 2020 'From Grief to Hope' Report
7,158 people completed the survey, and findings are presented in the report.
This is the largest suicide bereavement survey internationally.
Aims of the study
To understand the impact of a death by suicide on the lives of those who were bereaved/affected by suicide
To establish the type of support/services people bereaved by suicide had accessed, their experiences of services and whether their needs were met
To explore how support for people bereaved or affected by suicide can be improved.
The Major Incident Response Team (MIRT) provides a confidential support service to anyone who may find themselves caught up in an incident.
MIRT are a group of trained volunteers who offer their time to help with emotional and practical support to people affected by a range of extraordinary situations. For example, road traffic accidents, bereavements, community evacuations, witnessing or being caught up in larger emergencies.
All team members are trained in Mental Health and Psychological First Aid, along with safeTALK and Asist skills for those bereaved by suicide.  The team have also received training from other professional organisations such as Cruse Bereavement, Alzheimers Society and Suicide Bereavement UK.
Contact emergency@northyorks.gov.uk or see here for further information.
Supporting our NHS colleagues with Bereavement
PABBS – Postvention Assisting those Bereaved by Suicide Training
PREVENTABLE': short film aims to help prevent suicide and urges people to learn to spot the signs
Emergency Services Post-vention Response Training
Post-vention Prison Training
Bereavement support line for North Yorkshire

Bereavement is the experience of losing someone important to us. It is characterised by grief, which is the process and the range of emotions we go through as we gradually adjust to the loss.
Losing someone important to us can be emotionally devastating – whether that be a partner, family member, friend or pet. It is natural to go through a range of physical and emotional processes as we gradually come to terms with the loss.
Bereavement affects everyone in different ways, and it is possible to experience any range of emotions. There is no right or wrong way to feel.
Darlington Mind offers a dedicated telephone support line every week day between 9.30am and 4.30 pm (not bank holidays) funded by North Yorkshire County Council. Please call 07375 871303 or email us at supportline@darlingtonmind.com
Our skilled and experienced staff are there to help you by just listening, through counselling or to help with practical advice if you need it.
In need of other support – please contact Darlington Mind on 01325 283169 or email contactus@darlingtonmind.com